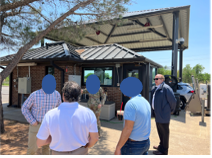 Team WiGL travelled to an US Air Force (USAF) Base and met face-to-face with the end user war-fighters to plan how WiGL will meet their very specific needs. And again, we think it was a smashing success!
Here's where we are with the USAF:
WiGL has been working on the 1st of 10 contracted deliverables for the 2nd USAF contract
WiGL has requested permission from USAF Public Affairs (PA) Offices to share the name of the base and specifics about the wireless power networking contract (this may time some time; please be patient with us).
Military and civilian names, faces and location redacted until PA approval is granted.
WiGL is in negotiations for additional follow-on contract(s); more to follow as we learn more
The WiGL's World Fair 2.0 (WWF 2.0) has officially started
WiGL has secured four (4) hardware partnerships for WWF (the WiGL network is wireless power hardware provider agnostic)
The WiGL network will recharge both Apple and Samsung mobile devices, used by the USAF
Here's where we are with the Reg A+:
Almost there…
Because we are fast approaching the important $1M capital raise milestones, StartEngine will soon issue another email about WiGL to a their larger audience. Team WiGL is super excited about your support during this raise and look forward to using these funds to hit and exceed our planned roadmap objectives.
This Reg. A+ offering (bit.ly/3vTfufH) is made available through StartEngine Primary, LLC, member FINRA/SIPC. Please read the Risk Factors (bit.ly/367hpCM) disclosure before investing. This investment is speculative, illiquid, and involves a high degree of risk, including the possible loss of your entire investment.