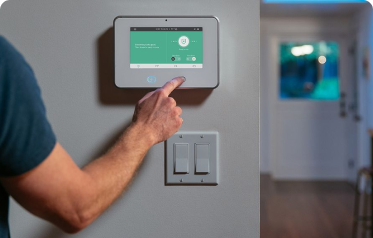 Security systems are big business, and it's easy to see why. The FBI reports that in 2015, a property crime occurred on average
every 3.9 seconds
— adding up to
about 8 million
that year. Only
26 percent
of the more than $12.4 billion worth of stolen property was recovered in 2015.
Although the National Council for Home Safety and Security reported in 2017 that only 17 percent of U.S. homes had a security system, our smart device age is changing habits, according to the
New York Times
.
While the Internet of Things revolution and the prevalence of wireless internet have made this boom in home security possible, these devices, for the most part, have one killer flaw: They rely on battery power or cords to harness electricity.
For systems like Ring or Nest Secure, the fairly inexpensive, easy-to-install devices come with internal rechargeable batteries. Those batteries are pretty impressive in that they tend to last
between 6 and 10 months
(depending on usage) but just like smoke detectors, you don't want them to peter out on you the moment you need them to work.
Other more sophisticate and beefier systems like ADT (the U.S. leader in home security systems) and the DIY leader Abode use a combination of wired connections and rechargeable batteries. While that kind of redundancy is nice, the batteries are only meant to last for emergency situations, and the wired connections can be unplugged or vulnerable to power outages.
WiGL provides a solution, eliminating the need for batteries that need recharging and/or the corded electrical tethers. With WiGL, not only is data able to be transmitted wirelessly to power these security systems (and communicate with the cloud, your smartphone, etc.), but electricity itself can be delivered to these devices.
For the most part, power outages take place due to inclement weather that takes out power lines. Since WiGL doesn't even need power lines to function, homes will be more resilient in adverse weather conditions, and critical functions like security systems will be undisturbed. The power broadcast to these devices could come from transmitters on the street, from a tower in the city, or even from space.
Without cords or batteries, security systems could enjoy the sort of bulletproof uptime that would make any criminal think twice, and every homeowner sleep easy.
WiGL-enabled devices contain a receiver element that is able to receive and decode the power signal sent from the electrical transmitters. Manufacturers of security systems could easily integrate WiGL technology into their products, or special adapters could retrofit existing products to become WiGL receivers.
The future is bright for smart security, and with WiGL, it's even brighter, as families have an affordable, legitimate option for protecting their properties.