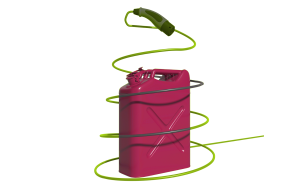 At WiGL we are constantly looking towards the future and what power needs will have to be met to ease consumer stress as much as possible. Our WiGL EV Charger was designed for military purposes, with the idea that we could repurpose it for the everyday consumer. The goal is to power everyone from our service members to road trippers when traditional power sources are not available.
The SWG EV Charger (Electric Gas Can ™)  can recharge a 1000W lithium Ion Battery while driving. The PowerBank in-turn delivers a charge to the EV of choice (car, bike, scooter, etc). This is made possible by the same magnesium oxidation reaction found in our other SWG products.
The WiGL eNERGY EV Charger is a reliable power source meant to keep you on the move. Intended to minimize charging stops in your Electric Vehicle, this product only requires the addition of salt-water to charge your EV for up to 24 hours. With this product we wanted to make sure we maintained the ideals of sustainability that EVs focus on, while providing the consumer the relief from dead battery anxiety.